" Joey Schwanke says she's old school.
The 81-year-old Fremont, Neb. resident told The Huffington Post that she and her husband, Mel, use their matching outfits to "enhance" their relationship, which has been going strong for 65 years.
"We're of the old school where you get married once and that's it," Schwanke told HuffPost. "We've been together 24 hours a day at work and at home.
Joey Schwanke picks out the ensembles, which often have a floral theme, because the couple owns and operates a successful

flower shop in

Fremont.
"We joke that we're connected by velcro because we do everything together," Schwanke told HuffPost."-(Credit:
HuffPost )
Listen, I'm not going to knock this couple for wearing matching outfits on the reg. Hey whatever floats their boat. What one may find creepy and weird, another may find cute and endearing. I'm not here to pass judgment. Well I'm totally here to pass judgment, just not on the outfits they choose to wear. If that's their thing then cool. However I have to question one thing. You have been together 24 hours a day….everyday….for the past 65 years? How the fuck have you not murk this chick yet? I get that you love her with all you heart. I think that is awesome and I really respect that. But there are certain times where girls are just obnoxious. Sometimes a man just needs his space ya dig? So you would figure this guy would be miserable right about now right? 65 years of putting up with your wife's shit 24/7? The man has got to be sick of his wife at this point right? Wrong. Look at this dudes face.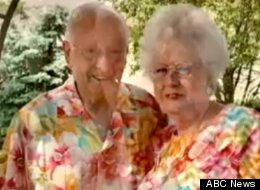 Happy as a fucking clam. Just sitting there in his flowered shirt and grinning like an idiot. He's never been happier. I can't even knock him for this. True love his hard to come by but these two have seemed to have found it and never gave it up. Good for you guys! This may be very Ted Mosby of me...but I like to think there is a chick out there waiting for me with 65 years world of matching outfits. I'm going to leave it up to fate to figure that out. It could happen though right? "I hope so The Guy….I hope so"
Read more...