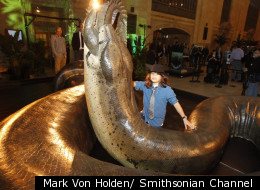 "
Titanoboa
, the biggest snake that ever lived, is taking a bite out of the Big Apple.
Well, not quite. But a scientifically realistic, life-sized model of the long-extinct serpent has taken up residence in New York City' Grand Central Terminal. The model represents a 48-foot titanoboa that would have weighed a ton and a half, according to a written statement issued by the Smithsonian Channel."-(Credit:
HuffPost
)
There are few things The Guy hates in this world. Bees, spiders, women's rights, and snakes. You can't trust a snake. Always slithering around like they own the place. Either eating you or infecting you with poison. They never help you. All they do is kill. You let them live in your woods , rent free I may add,

and next thing you know they are eating your pets! "Come on The Guy. There are no snakes big enough to eat your pets around here" Whatever dude. If you love snakes so much why don't you marry one?! BURN! "That wasn't funny…." Anyway my point is I don't trust snakes no matter how big or small they may be. I don't trust garter snakes let alone a fucking Titanoboa. Look at that fucker! 48 feet? 48 FEET?! Hide ya kids Hide ya wife! Thing is frightening. Look at that bad boy. He eats fucking crocodiles. We are talking prehistoric crocodiles. Those things are big fuckers as well! You think this thing would hesitate to eat you? Not a chance in hell. He would eat you and then come back for seconds. "How could he come back for seconds of you if he has already eaten you?" Fuck off. My point is this thing would eat a human as a snack. Good thing they are all fucking dead because if I ever saw one of these things I would prolly piss and shit my pants and then die out of shock. That's not a good look on anyone if you know what I mean. Just looking at the pictures of the model they made are going to give me nightmares tonight. Yikes. Snakes man. I tell ya. Shady ass fucking animals.
Like
TheGuy
on facebook and follow
KyGuyInc
on twitter